An escape game is a game played in teams of 2 to 5 players.
Can you solve the riddles and puzzles in time? 60 minutes on the clock, let's go!
The Lock'n Spin offers you two escape rooms where you can play in both rooms at the same time if your group is larger than 5 people!
LEVEL of the escape games at Lock'n Spin: 3/5 (beginner)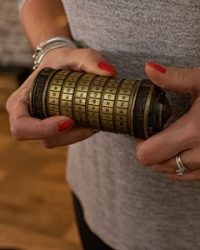 You are in your grandfather's house in the 80's (when the dam was built). The dam is built, the lakes are dug and the gates are released to fill the lakes.
In 60 minutes, the house will be submerged and there will be no way out!
Will you be able to solve the problems to get out of the house unharmed?
You and your friends have been summoned by the government because you are extreme athletes.
The government is recruiting for a top secret mission! This is a first step to test your abilities to become a secret agent…
In 60 minutes, there will be no oxygen left in the room!
Will you be able to handle it?